Spectacular sandcastles in Papamoa are sparking joy for beach walkers amid the COVID-19 lockdown.
Photos of sandcastles adorned with dragons, love hearts and words of encouragement have spread on social media in recent days.
Papamoa man Brett Muir is the sand sculptor behind these creations. He says the outpouring of positive feedback from the community online has been overwhelming.
"I am glad the community has taken it to heart – the amount of nice comments and words of thanks from people has been phenomenal."
Brett has been sculpting castles for many years and won the New Zealand Sandcastle Competition back in 2015.
He doesn't normally work with the sand in Papamoa – it's too coarse, but he says lockdown restrictions haven't left him with many choices.
Under level 4 restrictions, people are able to go for walks in their local area for fresh air and exercise.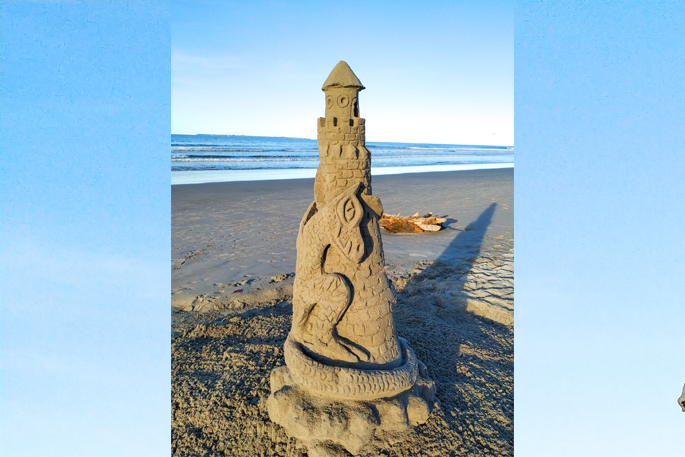 His first sculpture built during lockdown. Photo: Supplied.
"I was down on the beach one afternoon, and there weren't many people around. I thought I would have a bash to see if the sand is all right."
His first creation in lockdown was a castle with a dragon winding around the sides.
"I thought it would be gone in hours because the wind and tide would knock it over. But when I woke up the next morning people were posting photos of it on social media."
Brett says the sandcastles are bringing happiness to the community, in a not so happy time.
"It is something that isn't about the virus, it's not another negative story. People have latched onto it – it's something positive happening in our community that can be shared with others online"
One post on Facebook even accumulated more than 1000 likes, he says.
Brett's second castle sent a message of hope to beach walkers, with the simple message "Papamoa – Kia Kaha" carved on it.
"It stayed up for about four days – nobody kicked it over or touched it which was really cool. It also got a huge outpouring of support on Facebook."
"The message is a shared sentiment – everyone is just trying to get through right now."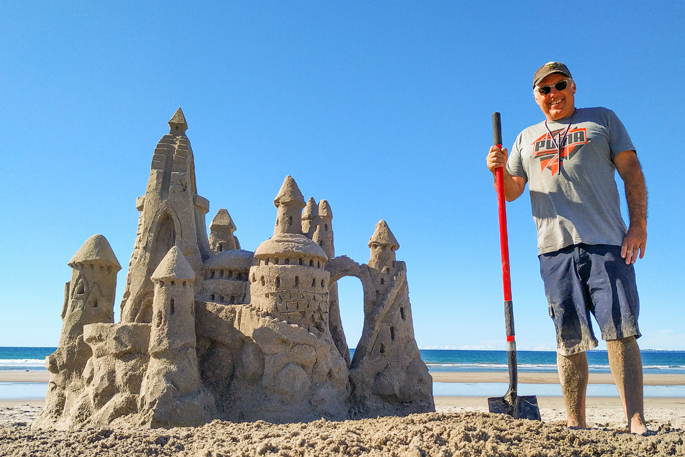 Brett Muir at Papamoa Beach. Photo: Supplied.
But should people expect more sandcastle creations in the coming weeks? Probably not, says Brett.
"There's a fence that needs painting at my house, and I am starting to work online from next week so I don't know if I will get the chance," says the Mount Maunganui Intermediate staff member.
For now, the photos will just have to live on. "Sand sculpture is performance art – it is a temporary art form."
Subscribe to our weekly Newsletter
Email: